Yesterday, I took my rusty old bike out of the basement and rode through Golden Gate Park to Ocean Beach and back. The 6+ mile ride may seem short to some, but for me, it was something I never thought I'd be doing just a short time ago. I'm on a roll (literally!) that started at the beginning of May when I joined the "Active Together While Apart" activity challenge.
As I wrote about in my earlier blog post, Heroku customer Active for Good is working to fight severe acute malnutrition in children around the world with a unique program here in North America. The organization runs activity challenges that inspire people to get more exercise, and simply by doing so, contribute to their cause. This means that for every minute of activity, participants generate points that unlock lifesaving meals for malnourished kids.
What better motivation to help oneself than to also help others in the most fundamental way. Doing so with friends adds fun into the mix, especially during these pandemic times when many of us feel so isolated.
Active for Good is designed for teams. The organization offers sponsorship opportunities to companies, nonprofits, churches, schools — any group that wants to run a private challenge and engage their own community in health initiatives or global issues. Students in particular have embraced the activity challenge as part of school projects, senior presentations, extracurricular activities, and even the time-honored tradition of embarrassing their teachers on stage. The challenge format is simple enough that moderators can truly get creative with their events.
Recently, Active for Good has started running public challenges that are open to everyone for a designated period of time (typically one month). They are free to join, and anyone can start a team or join a team. Leaderboards keep the competition lively, and the mobile app UI and notifications keep participants engaged with their progress.
During May, Team Heroku entered the "Active Together While Apart" public challenge, ready to get seriously busy. Our team grew to 43 members strong, each contributing their personal minutes to an overall pot that unlocked a whopping 1,314 RUTF (Ready to Use Therapeutic Food) packets for needy children. We placed 7th in the region, which also reflected our collective hard work.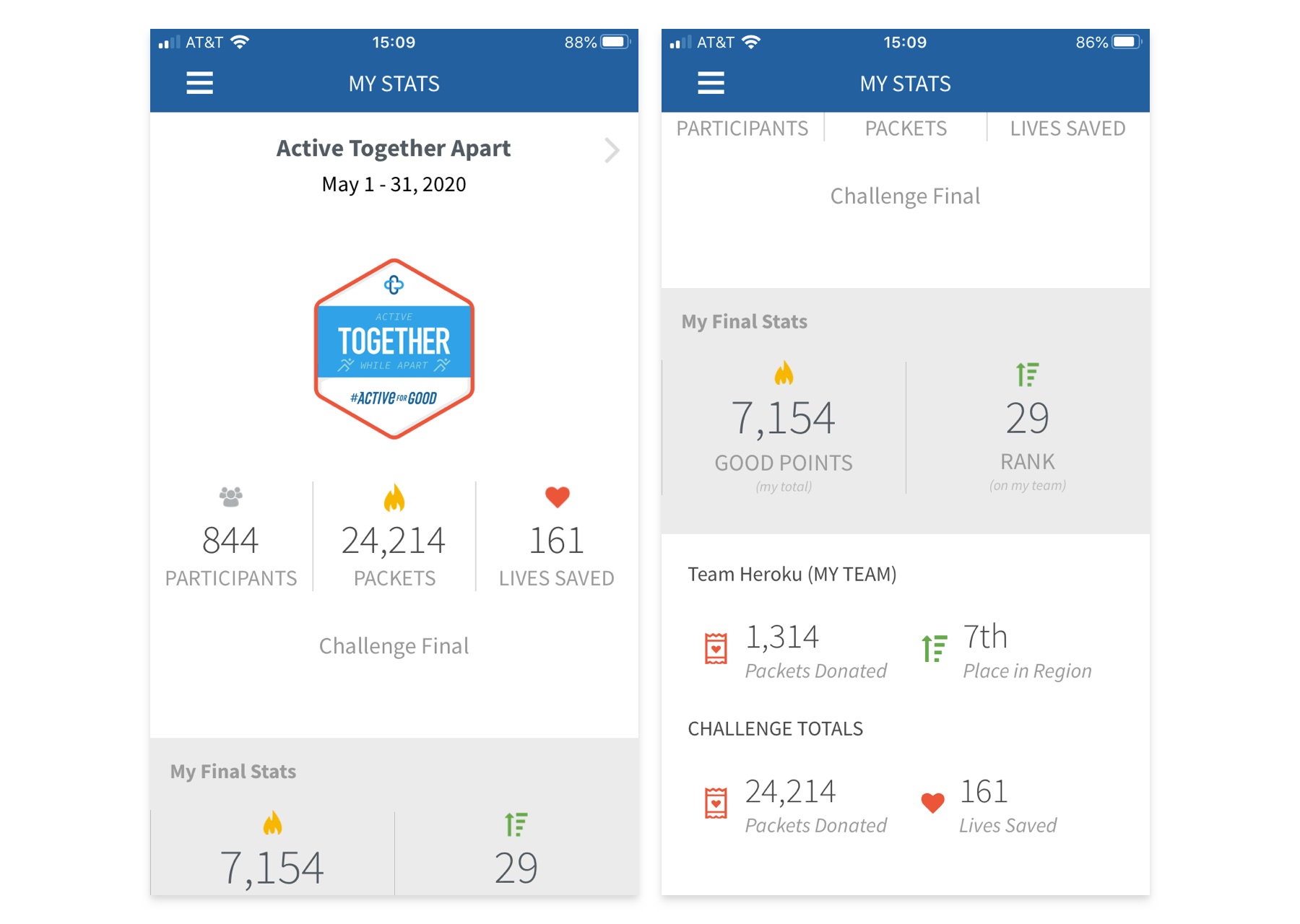 I'd like to give a shout out to my colleague Van Bach and her husband Eduardo for leading the charge. Van placed #5 in the Team Heroku rankings, and Eduardo placed #1! Van describes the challenge as the extra motivation she needed to push herself: "The Active for Good app is such a fun, low effort way to help make a difference. I love that the integration with my fitness device is seamless and I don't have to think about it. My husband and I both use the app and we find the ranking system a great motivator for friendly competition. It really made a difference between deciding to slack off for the day, or to power through it and climb one more spot!"
Special thanks to another colleague, Summer Bolen, who helped raise awareness at Salesforce by sharing her experience on our internal Chatter channel. For Summer, the competition aspect was a welcome surprise and added fuel to her motivation: "I never knew I was so competitive, but seeing myself on the bottom of the leaderboard definitely lit a fire and has helped hold me accountable to stay active throughout my days. My favorite way to earn points: hiking, yoga, house cleaning, and meditation (worth the most points!)."
The latest Active for Good public challenge started this week, and Team Heroku is already racking up points. Incidentally, at the time of writing, Eduardo is in the #1 spot. Challenge anyone?
We invite you to join the June challenge "Hello Summer!" and get active with us. You can start at any time during the month and your activity can be added retroactively.
By being active together in May, the combined efforts of all teams donated 24,214 meals that saved the lives of 161 children suffering from severe acute malnutrition. What a profoundly satisfying accomplishment! For me, it made every breathless step up San Francisco's neighborhood hills, every Zoom dance class and yoga session, every late-night house cleaning frenzy, and now, every pedal of my old bike, totally worth it.
Learn more about Active For Good's impact, how their public activity challenges fight malnutrition, or join their latest activity challenge.
Listen to the Code[ish] podcast featuring Troy Hickerson and Luke Mysse: Special Episode — Active for Good.