At a rough estimate over half the team at Heroku are remote workers, including myself. We are affectionately called Remokai. We hail from a dizzying number of countries, communicating through email, video calls, and instant messages, from cities, towns, beaches, and parks—a few weeks ago I had a meeting while cycling through central London. It's an incredible mix of people, from a diverse range of backgrounds, living and working in ways that would have been impossible only a short time ago.
"For the most remote place I've worked... I did try to stay focused on the VTO (volunteering) project I was there for, but I'll admit I checked my email from the plaza in the center of Pilar, Paraguay."
That said, one of the challenges of working remotely is that it can be, well, remote. To counter that, we meet up in real life four times a year to collaborate, catch up, and celebrate our successes. And in between those times, we encourage new initiatives to help all our team, remote and locally engaged, feel a little closer together. From tools like a Slack app that helps you find co-workers nearby, to monthly lightning talks in a number of regions, everyone works to stay engaged and connected. In a recent weekly coffee hangout we gave tours of our houses, flats, and current work places, and discovered genuinely fascinating, humanising, and hilarious things about one another—including a co-worker with an incredible collection of 200+ boots.
"As for the most remote place I've worked, it probably would be when I was deploying code to production while driving to the Dead Sea in Israel while tanks passed us by..."
That got us talking about sharing and celebrating our remote spaces. We issued a question to our remote crew: can you send us a photo of where you work?
"The most remote place I've worked would be popup camping on a beach in Northern Florida. Challenging, but doable."
The response was awesome, so we wanted to share them (with permission) to give a glimpse into the people and environments that help to make Heroku what it is.
"I got word of moving onto the next stage of the interview process days before a climbing trip. Since the trip was already planned I decided to make use of the ability to work remotely, and so I did my starter project at the campsite in a super uncomfortable camping chair while my friends went climbing in the forest."
---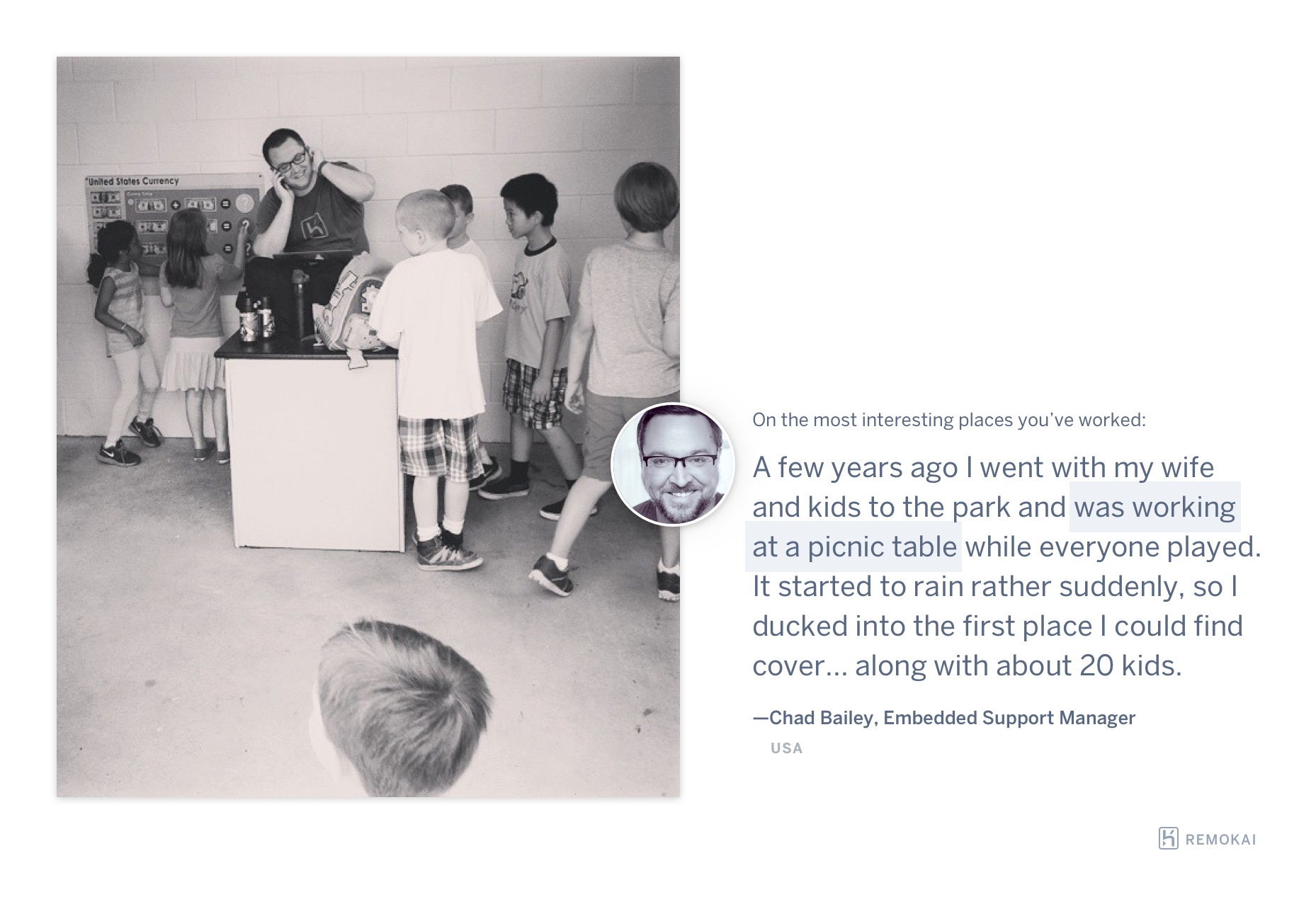 ---
Listen to the Code[ish] podcast "Making Remote Work Work", in which five different Herokai talk about what's worked (and what hasn't), ranging from their home office setup, the necessity in establishing a schedule, staying engaged with the rest of the company, and how to get a strong Internet connection atop the Rocky Mountains.